I get it—you hate sunscreen. It's too greasy, it's too thick, it breaks you out, and, most annoyingly, it turns your makeup into a patchy, shiny mess. At least, that's what you've been telling yourself since junior high. In reality, today's sunscreens are freaking awesome. They're lightweight, semi-matte, and non-chalky, and they look completely invisible under your foundation.
And to prove it to you, I cherry-picked the five absolute best formulas to slather on every morning (every single morning, lest you become a skin-cancer statistic). These sunscreens can fight acne, brighten dark marks, fade scars, and, yes, even make your foundation look ridiculously smooth and natural. I told you—a lot has changed since your Britney Spears days.
1
THIS WRINKLE-FIGHTING FORMULA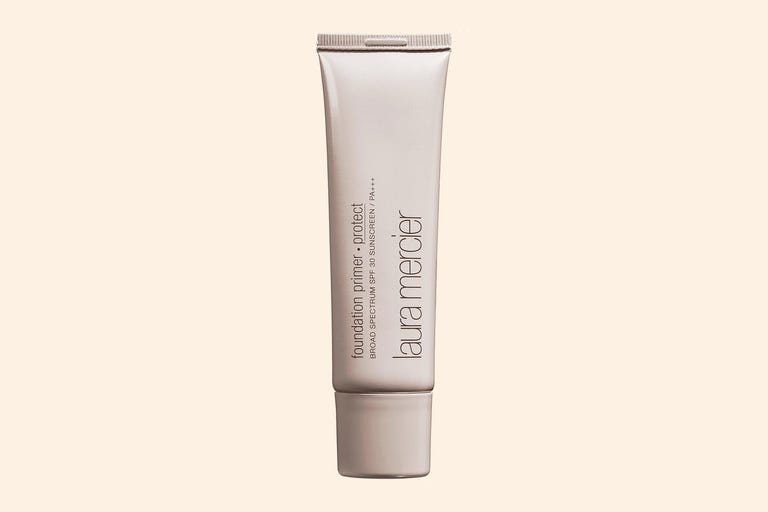 Laura Mercier Foundation Primer Protect SPF 30 Sunscreen PA+++, $38
This lightweight foundation primer has the consistency of a gel, so it easily sinks into skin without feeling heavy, tacky, or greasy. It's also filled with a ton of protection against wrinkle-causing UVB rays, as denoted by the PA+ ranking (a Japanese rating system that uses one-to-four plus marks to show how much UVA protection a sunscreen offers).
U.S. sunscreens are only required to protect you against cancer-causing UVB rays—which is what an SPF rating means—but Laura Mercier took sun protection one step forward by including hardcore protection against all of the sun's rays in one little primer.
2
THIS COMPLETELY CLEAR FORMULA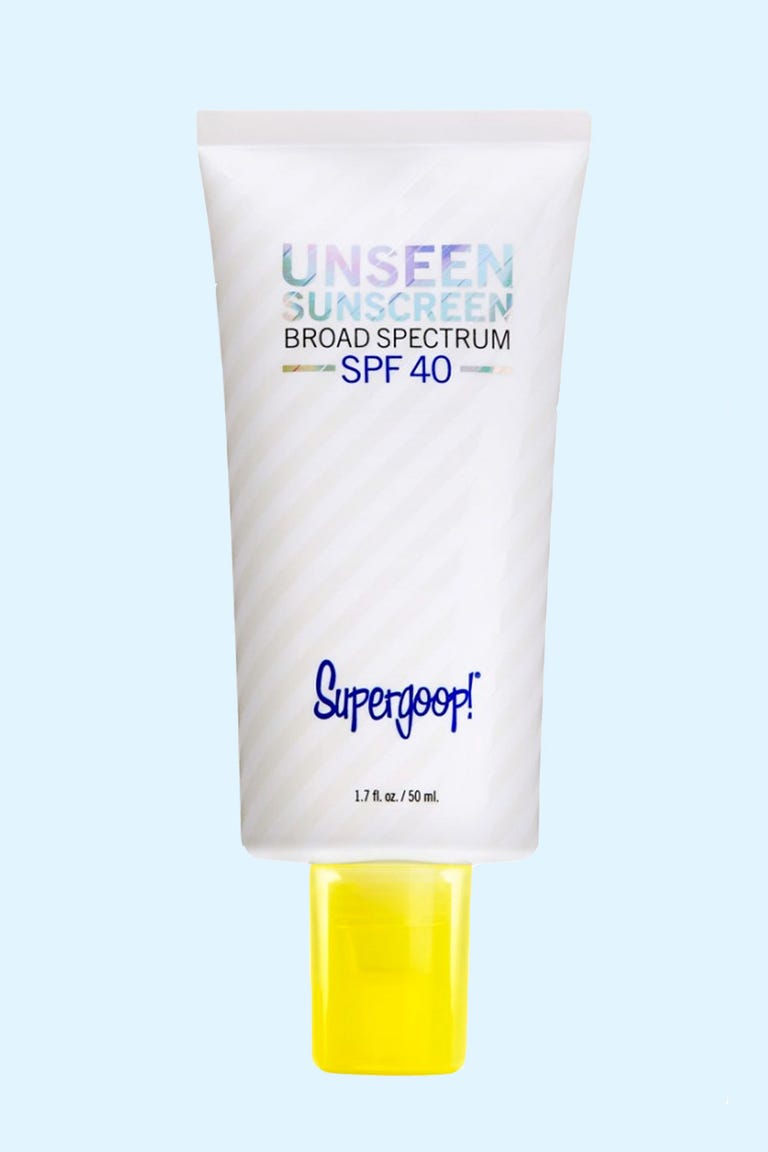 Supergoop! Unseen Sunscreen Broad Spectrum SPF 40, $32
Sunscreen haters, meet your new favorite sunscreen. The totally clear gel truly disappears into skin as soon as you smooth it on, so it won't leave a cast on deeper skin tones, or cause dark makeup shades to look ashy. It's also free of fragrance, common irritants, and oil—all the stuff you'd usually use as an excuse not to wear sunscreen. Basically, it's the most pared-down, nothing-to-see-here formula haters could hope for.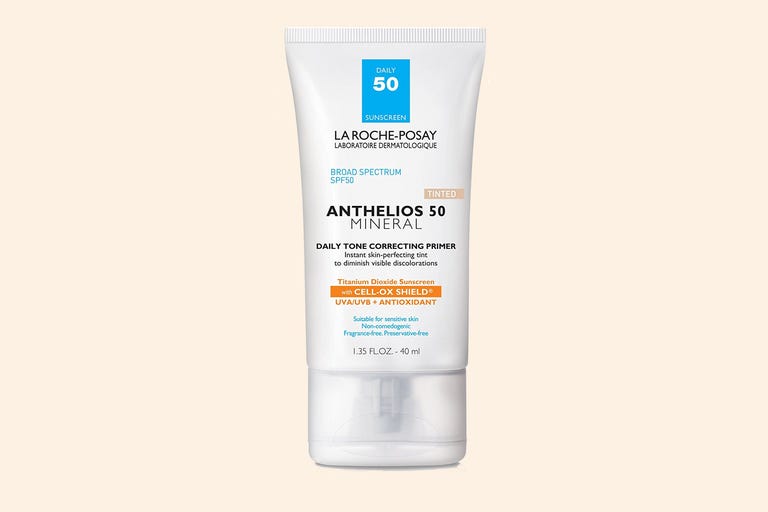 La Roche-Posay Anthelios Daily Mineral SPF 50 Sunscreen, $39
This creamy sunscreen has the biggest stamp of approval from Consumer Reports (the Anthelios line has been ranked number one for four years running). It's crazy lightweight and non-chalky—a rarity for mineral-based sunscreens—and it's got the tiniest bit of a tint to it so you can wear it alone for a subtle blurring effect, or layer it under your concealer and foundation for a smooth finish.
4
THIS ACNE-FIGHTING FORMULA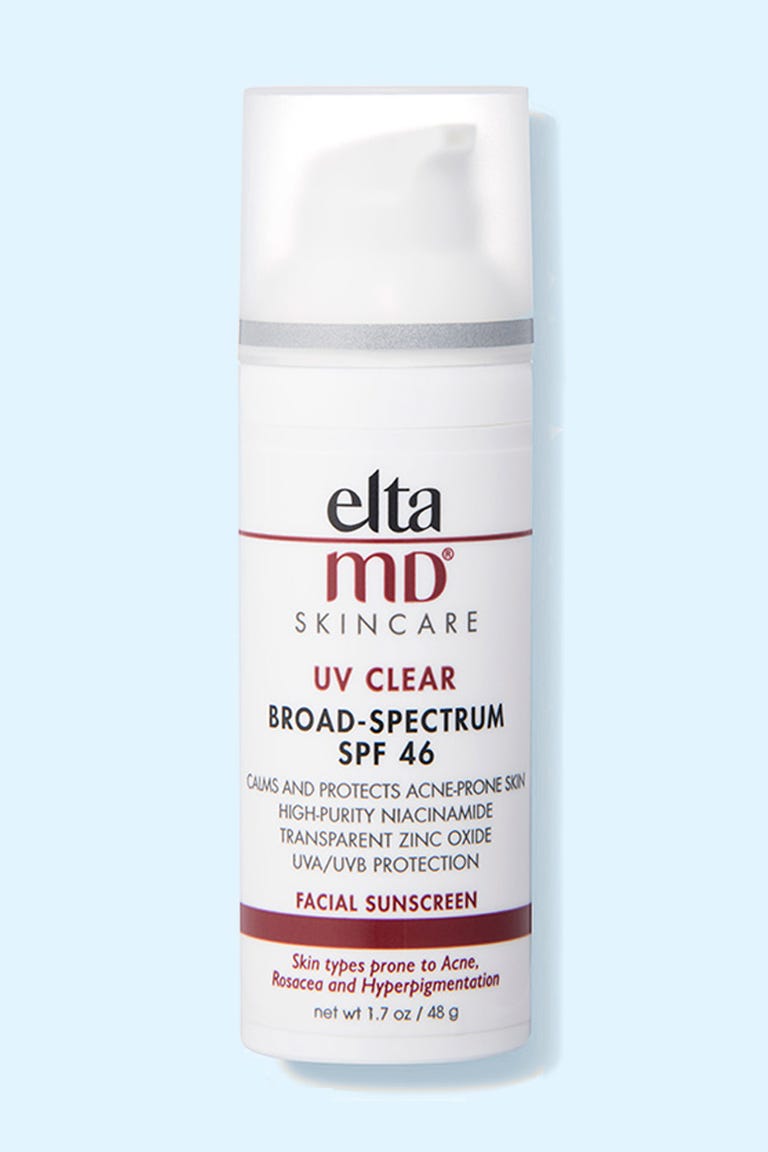 EltaMD UV Clear Broad-Spectrum SPF 46, $33
Ask 100 derms what their favorite sunscreen is, and you'll get 100 of the same response: EltaMD. Not only is the cult-favorite formula completely safe for acne-prone skin, but it's also infused with a small dose of lactic acid to keep pores clear, along with mattifying ingredients that'll help prevent your makeup from slipping and sliding by noon.
5
THIS BRIGHTENING FORMULA
Aveeno Active Naturals Daily Moisturizer with SPF 30, $14
The reason you've seen this lotion on every billboard and commercial for a decade? It's freaking awesome. And in the wise words of your mom, if it ain't broke, don't fix it. The sunscreen-spiked moisturizer dries to a semi-matte finish, making it excellent for all types of foundation and BB creams. Plus, it's filled with soy extract, an antioxidant that fades scars and discoloration over time, so you'll reap even more rewards for diligently applying your sunscreen every single day.